Takeaways & Recommended Resources from My Talk at the MSF Canada AGA 2014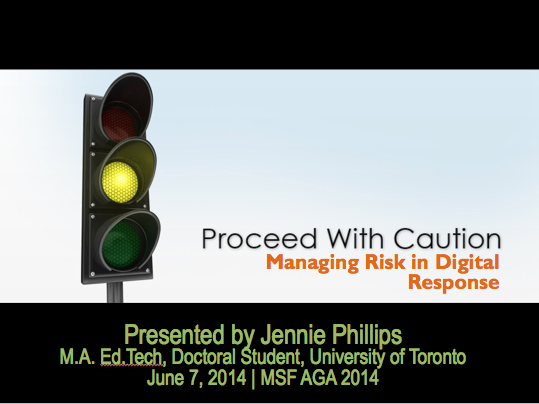 I delivered a talk yesterday to Médecins Sans Frontières (MSF)  Canada at their Annual General Assembly (AGA), in Toronto, ON. A gathering of approximately 150 key MSF staff from around the country, participants ranged from doctors to nurses, logisticians to finance officers, legal staff and learning staff, as well as many others, to discuss administrative items as well as share and learn from one another.
I was invited to be part of a panel titled "Information technology in the field: Is MSF missing the boat?"
Speaking along side two MSF staff who shared their experiences with technology integration in the field,  and Willow Brugh who spoke about the work of Geeks Without Bounds, I was privileged to deliver a talk titled: "Proceed with Caution: Managing Risk in Digital Response." The aim of the talk was to highlight the risks associated with engaging with digital response tools, partnerships and activities.
I am writing this post to follow-up on the conversation. I plan to write a more detailed post on the specific content I presented during the talk and also share the presentation online in the near future. In the meantime, however, I wanted to share the key takeaway and resources that relate to the talk.
Key Takeaway: 6 Strategies for Mitigating Risks Associated with Digital Response For Humanitarian Responders
Include the "digital layer" into situation assessment

What tools are people using (tech, apps, social)?

What digital vulnerabilities exist?

Connect with digital activist communities for security tips and support
Create partnerships with digital volunteer communities ahead of time

Exercise caution with sensitive data

Apply offline trust building practices online

Think about the big picture when adopting new tools
Suggested Bookmarks: 
https://groups.diigo.com/group/msfaga2014
Suggested Readings