3 Minute Thesis – Division Finals!
Every year PhD Candidates change out of their sweatpants, dust off their blazers, and armed with a single PowerPoint slide, step in front of an audience to present their thesis work in 3 minutes. Welcome to the 3 Minute Thesis Competition. With the aim for students to present their research in bite size pieces using language and concepts suitable for any audience, it is a fun TED Talks style event for knowledge sharing.
On March 26th, I too joined the parade and decided to take on the challenge of presenting my research. My talk titled ""Building resilience in complex systems: an evaluative approach to developing resilience in digital crisis response networks", focused mainly on what I call the digital response i.e. the four types of citizen-driven networks that form online during emergencies and the risks to these informal first responders. I've included my single slide in this post.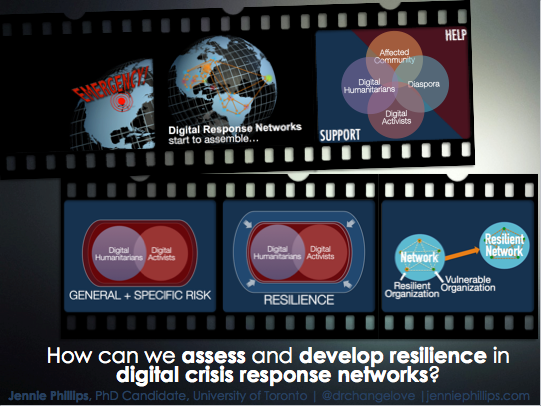 The first round, a competition for Social Sciences and Humanities, was a fun, eclectic and unusually dynamic set of presentations about research ranging from the study of Midwives to inform social innovation, to understanding women's rights through children's literature. Fortunately, I was one of the lucky candidates to win the first round of the competitions and move on to the division finals i.e. the University Wide competition.
For anyone interested in attending – the divisional finals are scheduled this upcoming Wednesday, April 8th at 7pm to 9pm at Sandford Fleming Building, 10 King's College Road, room 1105. This event is free and open to the public. Event details are here.