Battling Information & Embracing Innovation in Emergencies
Last week I gave a mini-lecture to a class of medical residents interested in humanitarian work. The aim of the talk was to create awareness of how technology is changing disaster response, and urge them to embrace this evolution as they transcend into the field. The following post highlights some of the key messages from this talk:
1. The Need for Information
When we thinking of emergency response we think people need food… water… shelter… medicine… but what we fail to realize that information is the essential link to the provision of and request for this support. Information, as reported by the Red Cross (2005), is actually just as important and "it can save lives, livelihoods and resources; information bestows power."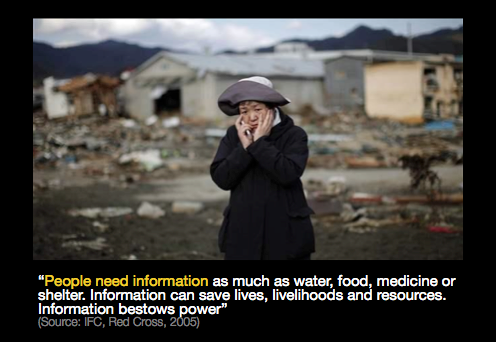 And information doesn't apply just to disaster victims, but the responders themselves. The BBC (2012) reports:
"In 2008, the main danger was that people affected by humanitarian emergencies would continue to be left in the dark when disaster struck, deprived of the information that would help them to understand what was happening and what they could do to survive"

"In 2012, it may now be the humanitarian agencies themselves – rather than the survivors of a disaster – who risk being left in the dark."
2. The Storm Surge of Information
When an emergency hits, there is a surge of information, or big data, generated online by people a) calling for help, b) offering support and c) reporting on the situation. Big data ranges from tweets to Facebook posts to blogposts to images on Flickr to video on YouTube. And the scale of information is massive. In 2013, 20 millions tweets and Instagram photos were shared within 5 days during Typhoon Haiyan in the Philippines, 16 000 tweets were being generated per minute during Hurricane Sandy in 2012, and social media use increased up to 25% during the Thailand floods in 2010.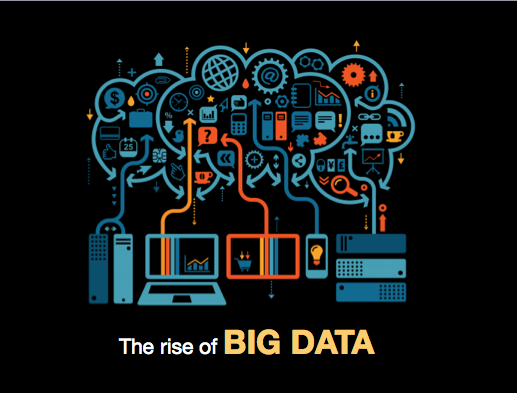 3. The Need to Manage Information
As alluded to above, big data serves as one of the biggest challenges facing humanitarian responders today (Meier, 2015). The sheer scale alone leaves responders overwhelmed an unable to prioritize and monitor reports from the crowd, when faced with immediate needs of the physical response. In many cases, responders feel too much information equates to no information at all. As a result those calling for help, offering support, and sharing pertinent information that may help direct the priorities of an emergency response frequently are left unheard.
4. Leveraging the Crowd
The merits offered through technology have spawned a new form of responder, one that can transcend geographic boundaries and time zones. One that can work around the clock, offer expertise ranging from emergency management to communications to technology, and manage the big data or Big (crisis) data problem (Meier, 2015) associated with emergencies. These are Digital Humanitarians and Digital Activists — the altruistic crowd enabled simply with an internet connection that seek to provide relief and advocacy in times of crisis. As a humanitarian, in the field or remote from the disaster, digital humanitarians and activists offer tremendous potential in their ability to respond to calls for help, source and propagate pertinent information from the group, and innovate ways to manage the chaos of information being generated. To learn more read my previous post here.
5. Capacities of the Crowd
The tech-enabled crowd are performing a variety of functions remotely and locally including information sharing, mapping, micro-tasking, situation monitoring, communications restoration, and people finding. A few specific examples of innovations are provided below:
Crisis Mapping – Collation and geolocation of crowd sourced information (photos, tweets, Facebook posts) and plotting this information onto maps to identify roads, infrastructure, social system needs, regions with heavy activity or demand, etc. Following the Nepal earthquake, for example, Humanitarian Open Streetmap has generated many maps of disaster affected regions that shows roads, key buildings, and infrastructure. See here.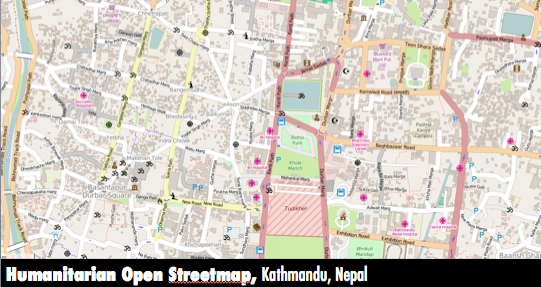 Drones and UAVs – Humanitarian Agencies are using drones or Unmanned Aerial Vehicles (UAVs) to assess widespread damage across a country, observe regions impossible to access by foot, deliver supplies to remote villages, among many other uses. Drones are even starting to be used to deploy remote defibrillators. In recent news, Doctors without Borders / Médecins Sans Frontières (MSF) has launched a migrant search rescue and medication aid operation in the central Meditteranian using drones to help them locate the boats.
Repurposing tools — From social networking tools such as Facebook and Twitter, to shared economy initiatives from AirBnB to Waze, these tools are being repurposed for emergency response purposes. Facebook now has a check-in feature, that uses the geolocation of the users device to identify if they're in an impacted area during an emergency. Facebook then sends them an alert asking them to "check-in" that they're ok. AirBnb, a crowdsourced accommodation sharing service has integrated an emergency response layer to their initiative. When users register their home to rent, they are asked if they'd be willing to share their home from free in a disaster. This post provides a great intro to other initiatives.
To understand the full spectrum of capacities offered by the crowd, see this post by Matt Stempeck.
6. Join the Crowd!
For those interested in learning more, there are a variety of initiatives active right now around the response to Nepal. All you need to do is join one of the initiatives, get a quick online training, and you can begin to help with the response… from the comfort of your home.. armed with your mobile phone, laptop, or tablet.
Crisis Mappers – http://crisismappers.net
Humanitarian Open Street Map – http://hot.openstreetmap.org 
Standby Task Force – http://blog.standbytaskforce.com
Micromappers – http://micromappers.org
This recent report provides an excellent snapshot on the use of crisis mapping during the Nepal earthquake.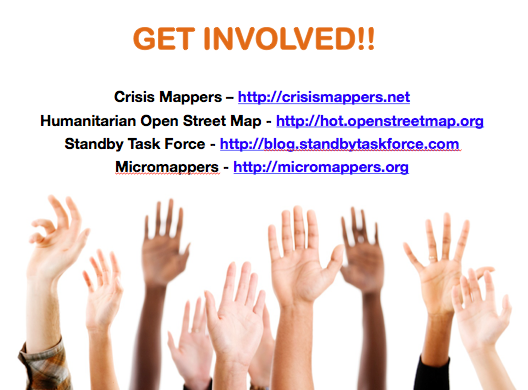 References
BBC. (2008, October). Left in the dark. Bbc, pp. 1–8.
BBC. (2012). Still left in the dark? BBC (pp. 1–16).
IFC. (2005). World Disasters Report: 2005. International Federation of Red Cross and Red Crescent Societies (pp. 1–258).
Meier, P. (2015). Digital Humanitarians. CRC Press.